The Pools manufacturer Waterair is present in more than 29 countries around the world. With more than @annee_anciennete of experience, it is recognized for the quality of its products, the reliability of its services, but also for its exceptional competitiveness. 3 traits that make Waterair Pools a serious and well-established company.
A pool manufacturer with innovative techniques
The reliability of its services and its exceptional competitiveness makes WATERAIR Swimming Pools a respected solution, well-known all over the world.
WATERAIR Swimming Pools invented the concept of a swimming pool in a kit with a steel structure. This technological innovation has enabled tens of thousands of people to partially or fully assemble their swimming pools, quickly and easily. Waterair Swimming Pools has been manufacturing swimming pool kits for over 45 years and has adapted the technology to all types of gardens and offers pools in a wide range of shapes and sizes.
Direct factory sales!
WATERAIR Swimming Pools has industrial production centres which manufacture the steel panels, steps, coping etc. With WATERAIR Swimming Pools, you can be sure that you are getting the best quality at the best price.
Quality before all else!
We guarantee that out products are faultless in terms of quality and safety. Waterair Swimming Pools has had them tested by independent, respected laboratories (TÜV, CETIM, VERITAS) prior to sale.
The ISO 9001 version 2008 certification has confirmed one of the founding principles of Waterair Swimming Pools: customer satisfaction.
A few points about Waterair Swimming Pools :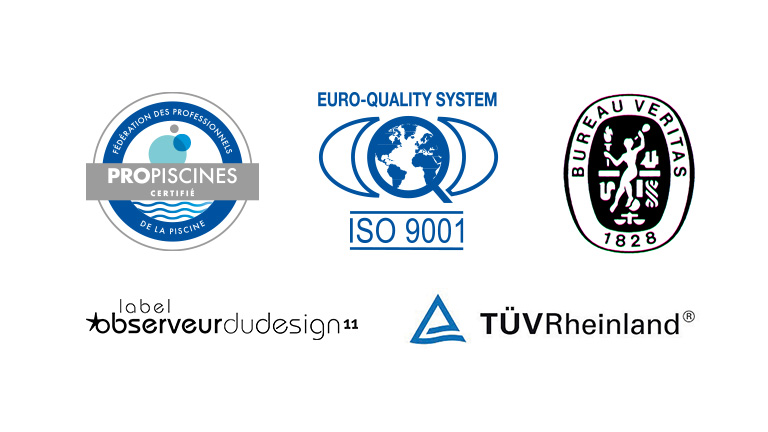 French swimming pool manufacturer
Capital of 10M. 90% is held by the management team, and 10% is held by financial investors
Classed as C3++ by the Banque de France (best possible score for a company of our size)
Established in 1972
Over 330 employees
90 models, over 200,000 variations
Quick installation
Various assembly options(kit, assisted kit, Posikit)
Reliable, beautiful products
Tested in independent laboratories (Cetim, Veritas, TÜV)
20-year guarantee on panels
12-year guarantee on liners
A network of local sales advisers is just a call away.
An efficient after-sales service 6 days a week
After-sales engineers in the field
Brand available in 29 countries
Subsidiaries in Spain and France
Member of the French Swimming Pool Professionals Federation (FPP), and "Propiscines certified".
FPP "Certipiscine" and "Propiscine" certified
Mardal branch in Germany specialised in the manufacture of coping
ISO 9001 version 2008
Brochures to support you throughout the life of your pool
Major savings compared to traditional techniques
Various financing options
We suggest you some detailed articles of our activity
European leader in swimming pool kits
We are present in more than 29 countries around the world, and are known for our quality products and reliable services, as well as for being incredibly competitive.
20 years
structural warranty*
+45 years
as a manufacturer
W3 Total Cache is currently running in Pro version Development mode.